This is a summary of changes between Jamstix 3 and the new Jamstix 4 for users considering an upgrade. Please note that Jamstix 4 allows you to load projects saved in Jamstix 3 for fast transition of existing song projects.
Re-engineered User Interface
Jamstix 4 has a completely new interface using vector graphics, offering better screen space utilization and increased use of color to indicate object state. The interface can be scaled from 80 to 200% to fit your particular needs and preference. All rotary controls display their set value centrally for increased awareness and the timeline now uses shapes to indicate part transitions. Various keyboard shortcuts have also been added to speed up the workflow.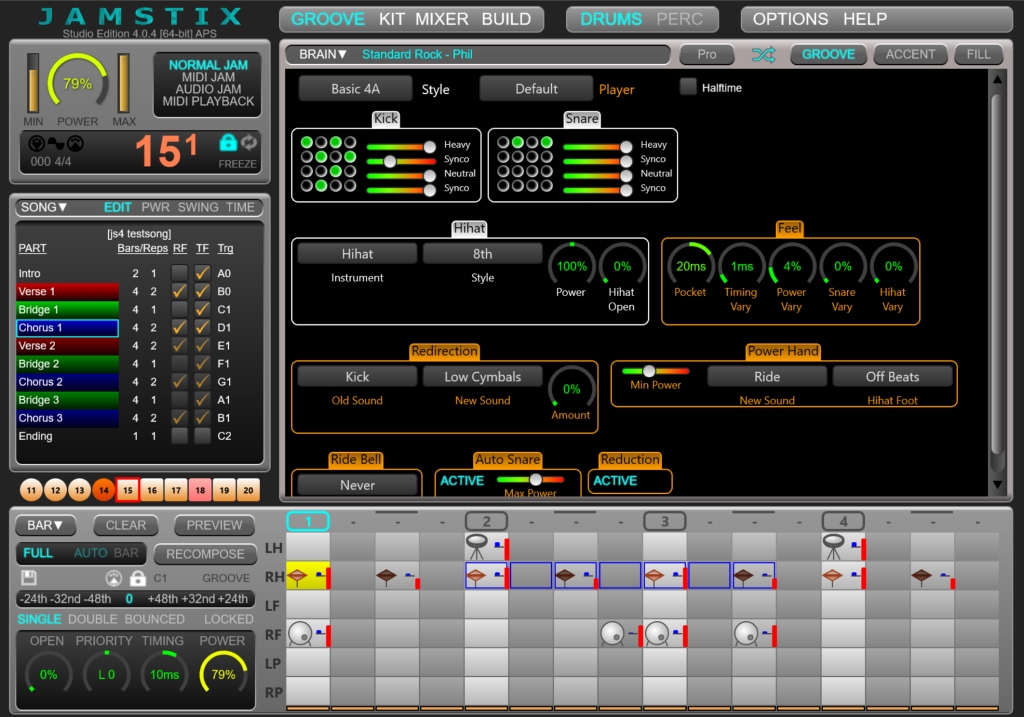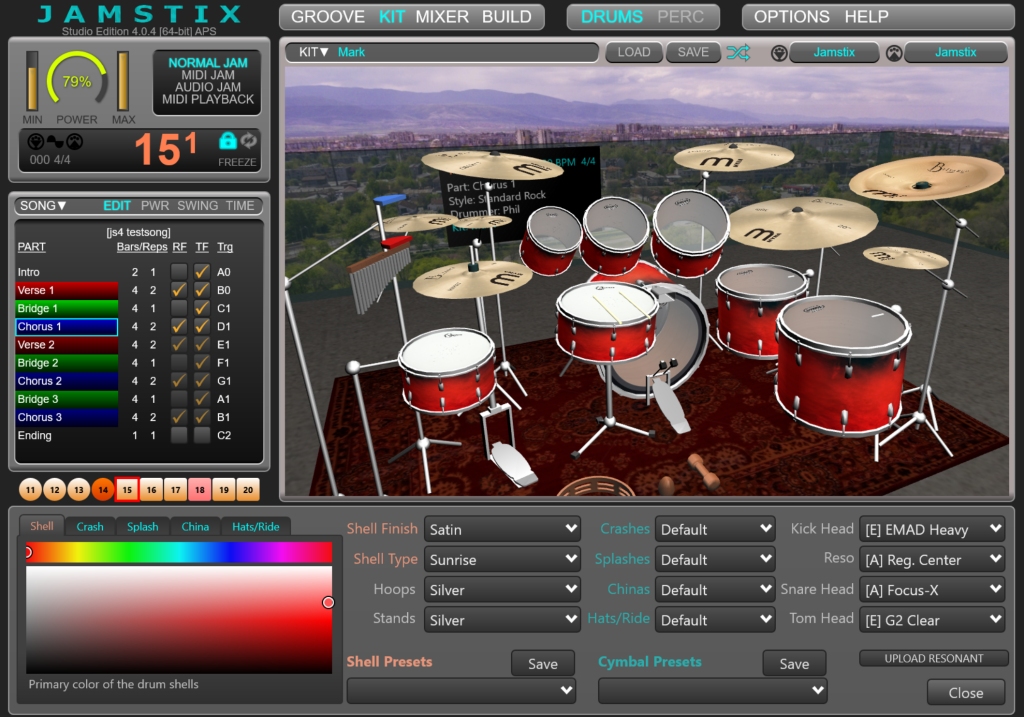 3D Virtual Kit
We know this is not a critical function affecting the grooves Jamstix 4 produces, but we've implemented a full 3D virtual kit with moving cymbals, kick pedal and drumsticks that you can pan, rotate and zoom. You can also adjust the shell colors, cymbal materials, drum head selection and 3D environment to fit your preferences.
We do believe that it translates the groove data into a more visceral experience as you'd have with a real-life drummer and kit. Furthermore, it makes Jamstix a perfect tool for drum students as they can watch intricate patterns being played at any chosen tempo. If you are skeptical about its value, we urge you to try the free version and see for yourself. We've had many skeptical testers change their mind completely, stating they wouldn't want to be without it anymore.
A.I. Changes

a second kick and snare are now supported
brain display now offers PRO, NORMAL and EASY mode, which collapse less often used brain elements and expand preset lists
new 'full' composition mode, instructing Jamstix to instantly recompose entire parts whenever you make changes in the brain or bar editor.
the time signature limit has been extended to 9/4 - 18/8
all fill algorithms have been improved
added 'Max Dynamics', similar to the existing minimum dynamics control, allowing you to set an upper limit for the drum dynamics
added Hihat shaper and dynamics effectors to the brain add menu
added 'Hihat Grid' to the brain add menu, similar to the existing klick and snare grid elements
added new fill mode "Groove/Free", which creates groove fills 70% of the time and free fills 30%
3 all new drummers (coming Jan 2018)
improved MIDI export algorithm
Audio Engine

added volume envelope controls, which massively expand the way you can adjust drum sounds
new sound linkage feature allows you to stack sounds outside of the A.I. engine
automatic sample attack adjustment for more realistic cymbal washing
added ambience phase inversion option
Simplifed Installation & Updating
Jamstix 4 comes with a simple manager tool that eliminates the need to download and install various Pak files. We've heard your pain with Jamstix 3, especially from the Studio version crowd! The manager makes installation a snap and updating is as simple as two mouse clicks. Jamstix will also alert you if a new version is available or if the Jamstix news feed on our web site has been updated.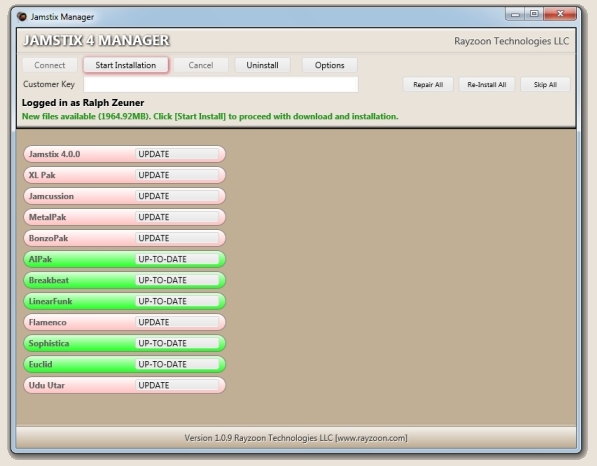 Improved Song Builder
Drag-&-drop of parts to build your song plus you can now use your existing song parts for easy restructuring. You also have options to create linked parts, toggle drum and Jamcussion parts and prohibit kit changes in a simpler fashion. If you were a fan of our letter-for-part entry system, you can now type the letters to directly trigger part inclusion.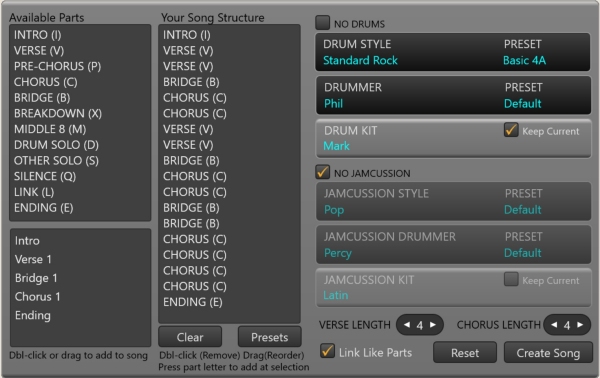 Flexible input and output MIDI mapping
The input and output MIDI mapping has been completely overhauled, allowing you to specify how Jamstix interprets incoming MIDI data and how it formats outgoing MIDI data. These options are presented in the kit tool bar for fast access at any time.


Improved Mixer

EQ now has center frequency control
added SOLO option to each channel
added master gain slider
all EQs and compressors can now be bypassed
holding SHIFT/CTRL while adjusting gain will move all channel gains in synch

Improved Song Sheet

parts can now be linked so that changes to the master part propagate automatically to all linked parts
manually created parts can now have the part type assigned (chorus, bridge etc.)
each part can now have a song power level assigned, eliminating the need for an automation envelope in many cases
parts can be set to use either first or second snare and kick for simple dual kit structures (i.e. light snare/kick for verse)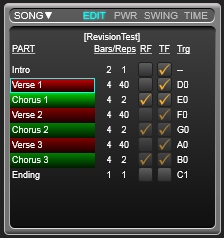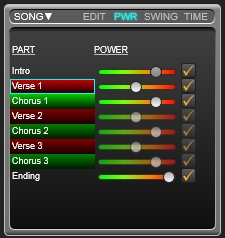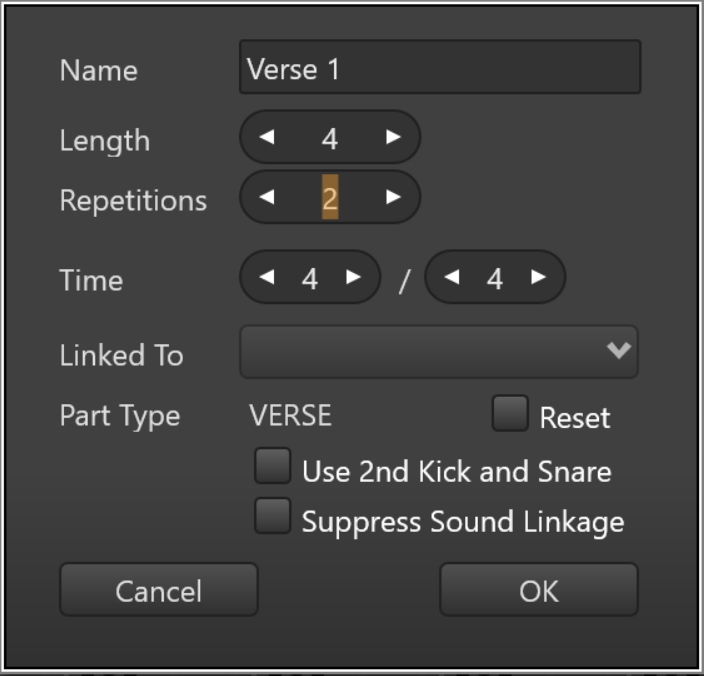 Widescreen Mode
Jamstix 4 supports a wide screen mode, which is perfect for songs in long bar time signatures, such as 9/4. It also gives you the option to display drum and Jamcussion 3D kits at the same time.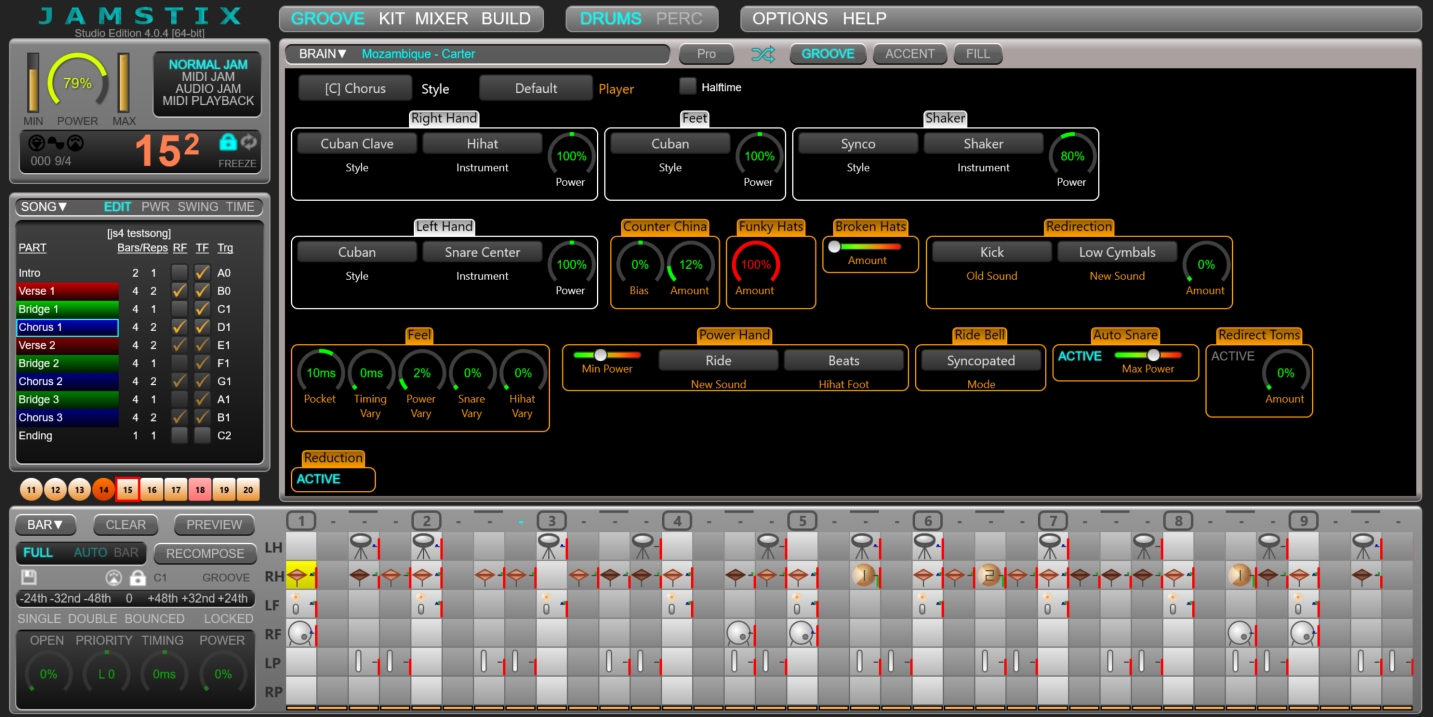 Improved Bar Editor

cell selection using Windows standards plus keyboard shortcuts
improved snare roll and cymbal wash editing
automatic width scaling based on time signature
enhanced sound icons
Other Notable Changes

MIDI keys can now be edited faster via a separate list editor
improved MIDI import dialog with mapping recall, faster load times and an option to forget previously added folders
the song structure can now be dragged to the host for fast marker insertion in the host timeline